YOUR LOCAL FURNITURE STORE
Find what you're looking for online and in store!
NEW ARRIVALS
Don't see what you're looking for?
Give us a call! Our inventory is changing daily and we have many suppliers who may carry that perfect something for your home and needs.
FEATURED PRODUCTS
Items we know you'll love!
CLEARANCE ITEMS
Get the furniture you want and save even more!
Super pleased.

Super pleased. After getting the run around from another company for 3 months we cancelled our order and went to Hudson's. They said 6 to 8 weeks and we got these in 7. Friendly professional staff and delivery personnel. Great quality and selection AND Made in Canada is a bonus as well.

– Kathy M.

There is a reason this store is a Stratford landmark

We bought a matress here about 8 yrs ago and unfortunately experienced some issues along the way with the manufacturer's quality. To be honest today we were dealing with our third warranty claim which is never fun but it happens. Every time the team at Hudson's were amazing and acted on our behalf to make sure the warranty was honored and that we were taken care of. There is a reason this store is a Stratford landmark.

– Mark M.

I cannot believe how great the customer service was

After some horrible experiences with various other furniture stores I finally went to Hudson's. I've gone there for myself, as well as with someone I work with. I cannot believe how great the customer service was!!! The furniture was everything I expected, delivery was flawless and they've been super inclusive with the individual that I work with. I recommend them to everyone and I will continue to be a customer. Thanks for making life easier guys.

-Becky M.

Quick To Respond

Hudson's was great to deal with and when there was a problem they were very quick to respond and rectify the situation. Would definitely go back!! Top notch customer service…something you don't see a lot of anymore.

-Peggy L.

Above & Beyond

Hudson's in Stratford stands by their merchandise and goes above and beyond for their customers. Everyone from the delivery people to the owner were amazing to deal with. I will be returning!!

-Carlita M.

An Outstanding Company

Hudson's is an outstanding company, I have recently bought a bunk bed for my children from here and it is an amazing bed with the best price in town guaranteed. I had these bunk beds less then 6 months when the movers cracked off the wooden dowels in the support railings for both of the beds. I had called hoping to be able to order some dowels needed because of the unique sizing. The employees at Hudson's took it upon themselves to go on a mission to find some, they found a few to cover what I needed and they even took apart the bed on their floor to be sure it was the same size ones that I needed! To say they go above and beyond is an understatement, Thank you Hudson's!

-Brittany B.

The Best Place to Shop…

I'm new to Stratford and decided to support local stores so I headed to Hudsons. I went looking for a recliner and found a power lift chair on sale. I have back problems so I tried it out in the store and it was exactly what I needed. Doug provided excellent service. I had some issues with the chair and contacted them several times. Jim came out immediately to deal with these issues. The last time I had a problem Doug immediately said that they would replace the chair with a brand new one. The issues with the chair had nothing to do with Hudsons furniture. I just happened to get a chair that was a lemon.

-Kathleen F.

Above & Beyond

A big thank you to Doug and Jim for taking care of my mother's powered lift chair issues. Your team went above and beyond, and we really appreciate it.

-Stefan M.

A Wonderful Experience

I had ordered furniture quite some time ago. I had moved 3 times in only a couple of years and your company held my furniture on layaway the entire time. Every time I called the staff to let them know I hadn't forgotten, I was met only with pure friendliness. When I was finally ready for my furniture to be delivered, it was delivered that week!! The delivery team were great. From the first time I walked in the door, to the time the delivery staff left my house, I had nothing but wonderful experiences with your company. I know a big box store would never be so accommodating. Any future furniture purchases I need to make will be done with your company! Thanks again!!!!

-Hailey P.

Professional & Polite

We recently purchased furniture and had it delivered to our home in Baden. I want to commend your delivery men on their polite, courteous and professional manner (INCLUDING THE BLUE SMURF BOOTS). Jerry, the salesman we dealt with, was very helpful and professional and polite as well. They are great people to have on your team. Thank you for the whole experience!

Myron R.

Warm Welcome & Friendly Staff

Just a note to let you know how much we appreciate the warm welcome we always get from the friendly staff at Hudson's. Last spring, I brought some friends from Toronto to visit, and you spent so much time with them while they shopped, and made them also feel so welcome to Stratford, that they all decided we are going to come again in the spring!! We will certainly make another fun visit to Hudson's one of the stops on our visit.

Judy & Alan T
YES! We deliver!
Anywhere in the Stratford/KW Corridor
CUSTOM ORDER

Need pub stools for the kitchen?
Or chairs for the dining room?
We carry Furnishings' Mate products, where you will find the finest in contemporary, modern pub height stools.
Check out their catalogue and order yours today!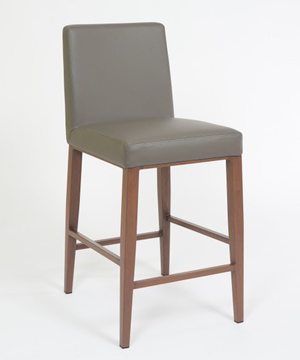 A FAMILY-OWNED & OPERATED FURNITURE STORE IN STRATFORD SINCE 1912
For over 108 years, Hudson's has been helping customers find that perfect piece of furniture that has helped enrich their homes. We have also brought them a good night's sleep with our Canadian-Made quality mattresses.  We recently expanded our furniture/mattress departments to two floors –  becoming the largest furniture and mattress store in Stratford. Carrying such well-known brands as Catnapper, Elran, Vaughan Bassett, Simmons Beautyrest, Galaxy Bedding, King Koil, IFDC International, Starcraft, Titus Furniture, Ashley Furniture, Best Home Furnishings and many more.   Visit Hudson's today and let us help bring comfort to your life.